If like me you are booking up your theatre, maybe you want to think about a pre-theatre restaurant. London restaurants don't have to be expensive, and a pre-theatre menu is often a good opportunity to test out a menu. A pre-theatre menu usually guarantees good service, they know you have to leave by a certain time, and they will have a second sitting.. It's a win-win for everyone.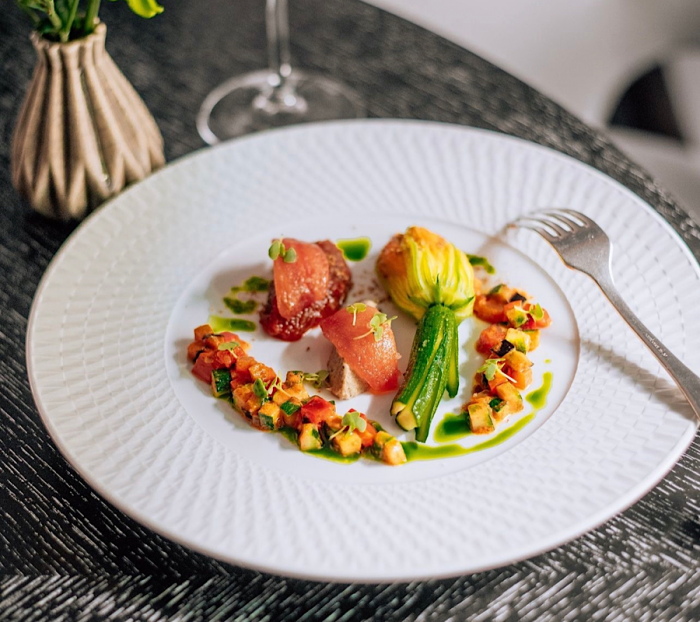 I have dined at all my recommendations, and I know the list could be wide. Most restaurants have pre-theatre menus and some restaurants may not have the pre-theatre menu, but are just so good you go for one course and a glass.
Along with my theatre guide into winter and 2024, Here are my 7 pre-theatre restaurants that should definitely be on your radar. It is a list that I know will grow. If you have any recommendation please let me know for round two.
Indigo | One Aldwych
Perfect for Covent Garden. This has to be your go-to if you are gluten intolerant. It has a fantastic pre-theatre menu, and the joy of my 'free from' friends whenever I suggest this place is real. If you aren't gluten intolerant, don't be put off, the food is sensational.

Open Wed – Saturday 5.30 – 6.30pm.
Indigo Restaurant
The Garden | The Corinthia
This spot doesn't do pre-theatre menus, but they are so accommodating if you are going to Cabaret or anything at The Trafalgar it's perfect. I also love the outdoor, but indoor feel, with twinkling lights and cosy blankets. I'm all in for a bowl of pasta and a glass of red wine.

Open 7 days a week 12-midnight.
The Garden
64 Old Compton Street | Soho
Exactly where it says it is, so if you are at the top end of Shaftesbury Avenue, this is for you. Small Italian restaurant, with incredibly generous portions so perfect for hungry people. No pre-theatre menu but go for one portion, if you can resist two and you will be satisfied. We had the best meal here. Find me a lobster linguine anywhere in London for under £20 – you can't. 64 Old Compton Street opened this year (2023) and keep them on your radar.

Open midday – 11pm daily.
64 Old Compton Street
Bocca di Lupo | Archer Street, Soho
Located at end of Shaftesbury Avenue just up from Piccadilly Circus. A firm favourite with the theatre crowd for an authentic Italian meal. Their lunch and pre-theatre menu stops serving at 5.30pm. Always fully booked, so booking essential and for £15 two courses & a salad you can understand why. Regional Italian cuisine at its finest. Menu changes twice a week.
Available Mon – Fri 12 till 5.30pm
Bocca di Lupo

Forza Wine | Southbank
This is my new go-to spot for The National Theatre. It's located on the rooftop (inside and outside seating) at The National so no worries about being late for curtain up. They serve up small plates, reasonably priced, with a great choice of wine. It is the perfect start to your evening. It doesn't have a set menu, so allow enough time for service as this fab spot is becoming very popular. Booking advisable.

Open noon – midnight daily
Forza at The National
Cora Pearl | Covent Garden
This little gem in the heart of Covent Garden serves a great pre-theatre European menu. It's a winner and great value for two or three courses. Then you have a stone's throw of a walk to work off the best chips in town.. Giles Coren declares they are the best of the century – who am I to argue with him!!
5.30 – 6.15 daily
Cora Pearl Covent Garden
Scott's | Richmond
You might wonder why this restaurant is in here, but honestly the theatres in Richmond are little known secrets. So why not enjoy your evening even more, with a pre theatre menu at one of our favourite local restaurants. Between both Richmond Theatre and The Orange Tree Theatre it's no more than a 10min walk – perfect pre theatre or post matinee dining. Two courses start at £29.50 + wine.
Monday – Thursday 12-6.30pm
Scott's Richmond