Coronation fever and there are so many places in London where you can eat and drink like a King.
With more coronation afternoon tea's I can mention, I do have a few highlights of coronation themed afternoon teas that have hit my radar; The Goring Hotel (where Kate Middleton spent her last night before her wedding 12 years ago) always produce a good one. Ochre at The National Gallery if you want something small and delicious with a bit of culture attached.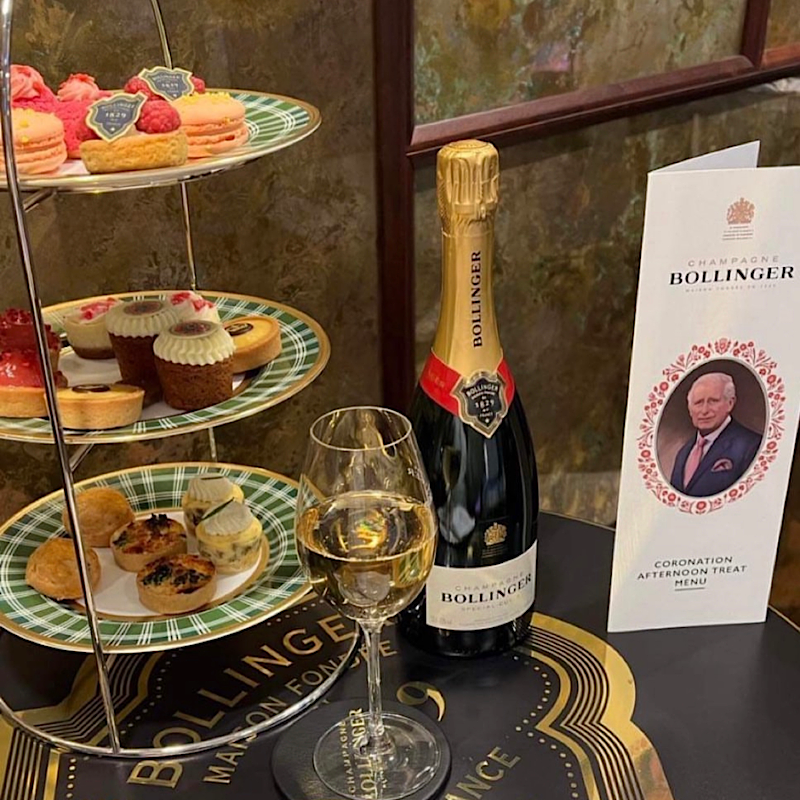 If you are planning a tour of Westminster Abbey, then frankly there is nothing else to do but book into the cafe and have their special coronation tea.
The Connaught Patisserie have created a limited edition King Charles Spaniel along the lines of their 'Connaughty Hound' too cute for words.
Burlington Arcade has created a lovely touch with Royal Warrant Patisserie Chef Didier Merveilleux serving up his exquisite cakes at The Bollinger Bar. Quite something when you consider he also caters for all the Royal Garden parties.
I recently heard that Camilla's mother used to live at Claridge's and when Camilla was a receptionist at the decorating firm, Sibyl Colefax & John Fowler, her mother insisted Camilla stay so she wasn't late for work – this is a true story!
As a nod to the King and Queen, the Painter's Room at Claridge's will have a botanical spirits and floral infusion cocktails inspired by the gardens of the King's beloved Highgrove throughout May. I shall most definitely be visiting here for my own birthday drink!
The Savoy Hotel | The Nyetimber Routemaster is taking over the Savoy Court. The finest English sparkling wine paired with cakes and savoury treats will be on offer. Private Nyetimber tastings with Savoy bites at £55pp.
Royal Street Parties
London celebrates The King and Queen with a street party or two. The two I've chosen are both showing the coronation with live screens.
King Charles Spaniels | Soak up the royalty in Chelsea. The Royal Borough has been home to princes, princesses and queens. It seems only fitting that the King's Road will be closed to cars for the Coronation. A highlight of their Saturday market will be the parade of 100 King Charles Spaniels walking with The Chelsea Pensioners as part of the events on Saturday, 6 May, 11am-5.30pm.
Mayfair's Coronation Party weekend | Grosvenor Square 6-7 May. With screens showing the King's Coronation live, there will be lots of food stations, or bring your own picnic and enjoy the festivities with live music. 10am Saturday and from 12pm Sunday.