Florals are a thing in London, and you cannot help but love the scene they create. You must have seen the beautiful new pale blue facade of 50 Cheyne with its pink floral wall framing the doorway.
Last month we visited the restaurant to sample their set lunchtime menu. Once you go in through the floral facade you enter the prettiest of interiors. After a nine month revamp 50 Cheyne re-opened in February with chef Iain Smith at the helm.
Where is it…?
50 Cheyne is in the heart of Old Chelsea, on a corner of Lawrence St, at the end of one of the prettiest & historical parts of the neighbourhood.
We couldn't have chosen a better day; the sun shone into the restaurant at every angle, enhancing what is already a beautiful, light and airy room…
…and then there is a gorgeous room upstairs where you can have afternoon tea, and a lovely little bar at the top of the stairs for that early evening drink.
What we ate and drank…
There is a fabulous set menu for lunch which is light and seasonal. Iain Smith, the head chef ,was formerly the head chef at Jason Atherton's Social Eating House, We both had the fish tartare as a starter which was absolutely spot on for texture, taste and deliciousness.
I then had the hake with peas, broad beans, white wine and a peppercorn sauce. The portion size was perfect, the flavour exquisite.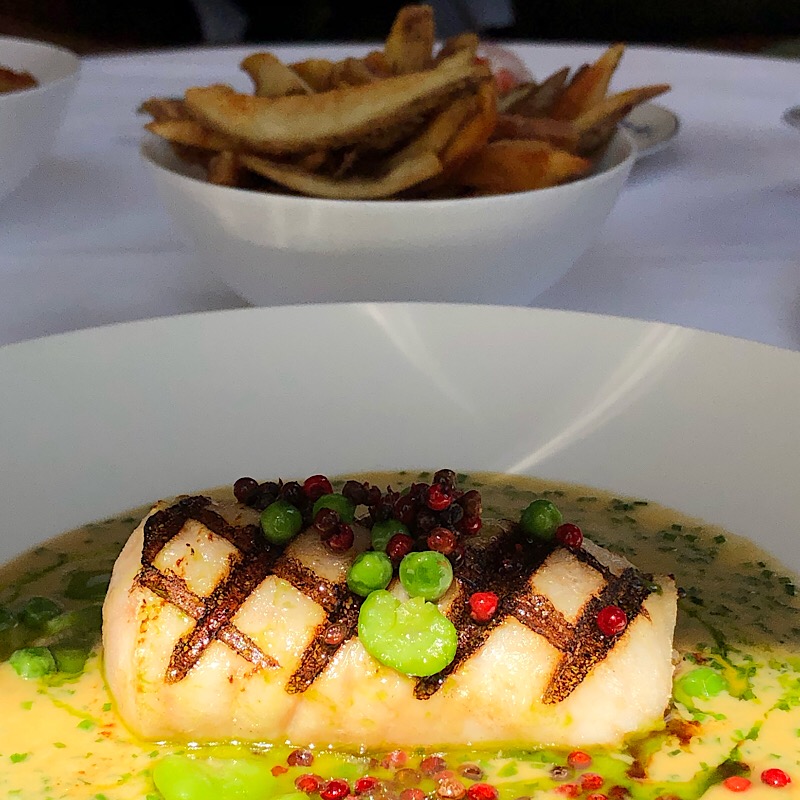 Mr B decided he had to veer off the set menu as he had spotted a rib eye steak. It came with the most delicious looking chips that I just couldn't resist, however good my broad beans tasted!
The wine list has been very carefully chosen, containing everything you could possibly want and yet concise enough to be very manageable and a perfect selection of wine by the glass.
We started with a lovely cold glass of champagne, followed by a glass of Puligny-Montrachet and a glass of Gevrey-Chambertain for Mr B and his steak.
Afternoon Tea at 50 Cheyne
Afternoon tea was being served upstairs before we left, we couldn't resist not taking a look… but Mr B is not very good at just looking and was soon just having a taste here and there… the verdict was 10/10. Tea is a meal in itself. Yes, there were the scones…
but the open sandwiches were original and very good, including the fancy fancies.. all very good value at £35pp including champagne.
The room is exquisite. It is beautifully light, and lends itself to spending more time than just afternoon tea. It is an opulent, yet cozy library, with a big screen for sporting events and huge sofas & chairs to sink into. I loved every detail in this room.
50 Cheyne is a winner. I love what Chef Iain Smith has done, but then I loved what he did at Social Eating House. He is young and so passionate about this restaurant, and having sat and chatted with him, I'm as excited for him about the plans he has for 50 Cheyne.
50 Cheyne reservations
50 Cheyne Walk, Chelsea London SW3 5RL

Looking for more in Chelsea read our Day Out.