Recently I was asked by the Visit London team if I would do "Instagram story" take over covering my favourite places in South West London. I was to kick start their 'Because I'm a Londoner' stories…and I could hardly wait. Visit London is one of the biggest platforms promoting London to visitors, so it was a huge honour to have been asked.
LLW took the Visit London followers on a little tour of South West London, highlighting a few of my favourite places and the small businesses I love and support. You can still see the highlights on my LLW instagram stories.
Visit London | Fulham Road aka the Beach
One little stretch along the Fulham Road is known as 'The Beach'. An area I am very familiar with, having lived around here for the last 25 years. I can safely say I support all the shops, bars and local restaurants.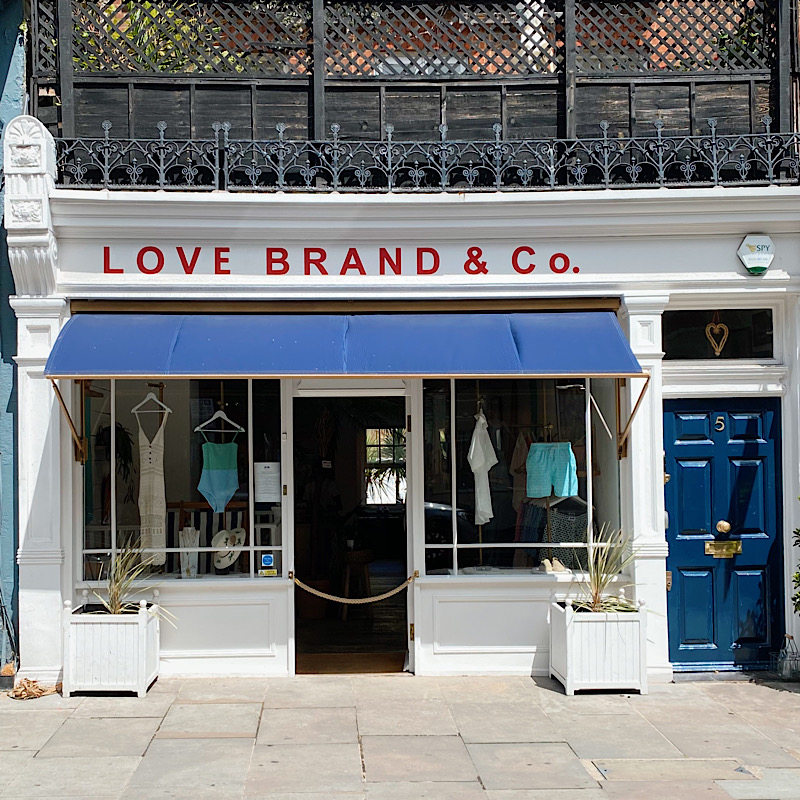 Dreaming of a sustainable summer, let's begin with a virtual trip to the beach at Love Brand. This beautiful clothing store began with swimwear for men. This summer it has opened up a beautifully curated women's store downstairs. Whether you are going away or not it is somewhere to visit.
You are spoilt for choice with places to eat and drink. Even as we come out of lockdown, The Goat Chelsea are still doing Zoom cocktail classes. They are fantastic fun and nothing like learning a new skill in lockdown. It's a great way to spend your Friday or Saturday night, whilst still supporting the hospitality industry.
L'Artigiano Restaurant saved me in the last few months with freshly made pasta to go. A new Italian/French restaurant that opened on the day we went into lockdown. I'm looking forward to going in and supporting them now the restaurant is open. Luigis Delicatessen for the best mix salads and any Italian delicacy you can think of. Aglio & Olio is our local favourite for pasta and no nonsense Italian food.
A couple of additions to the beach are; Badiani Gelato serving up delicious ice cream, and Colette, a fine food deli with ready made to-go food. If you want rosé you can't go wrong across the road at the independent wine merchant Lea and Sanderman.
Looking for juice and coffee
Joe and the Juice serve up good juices and great toasties. I hope it wont be long before we can sit inside, but for now they are to-go only. Along with CPress a few doors down for organic cold pressed juices, and I am reliably told the best almond cappuccino, although I prefer their standard coffee.
Your choices for coffee are endless along this stretch of Fulham Road; You have Gails, Cafe Nero, L'Artigiano, Colette, CPress, Joe & the Juice and Oree. Grab yourself a croissant from Oree – they are delicious, even though the service is ridiculously slow.
Visit London |South Kensington
On a Saturday you must visit the little Farmers Market in Bute St. If you are worried about social distancing, this is the market for you. You will find fresh seasonal cherries, and fresh fish, delicious packed flavoured chicken and vegetable stalls.
You can even grab yourself an an Oddono's ice cream before walking down to Claude Bosi at Bibendum. This stunning 1911 art deco building is considered to be one of the most beautiful buildings in London, and rightly so. You cannot miss the interior ornate tiling that surrounds the Oyster bar and entrance. This is where you will find Petals at Bibendum. The glorious flower stall, that fulfils all your floral needs. Walk through to Conran, one of London's best lifestyle's shops and the first shops I visited when everything opened for reading glasses!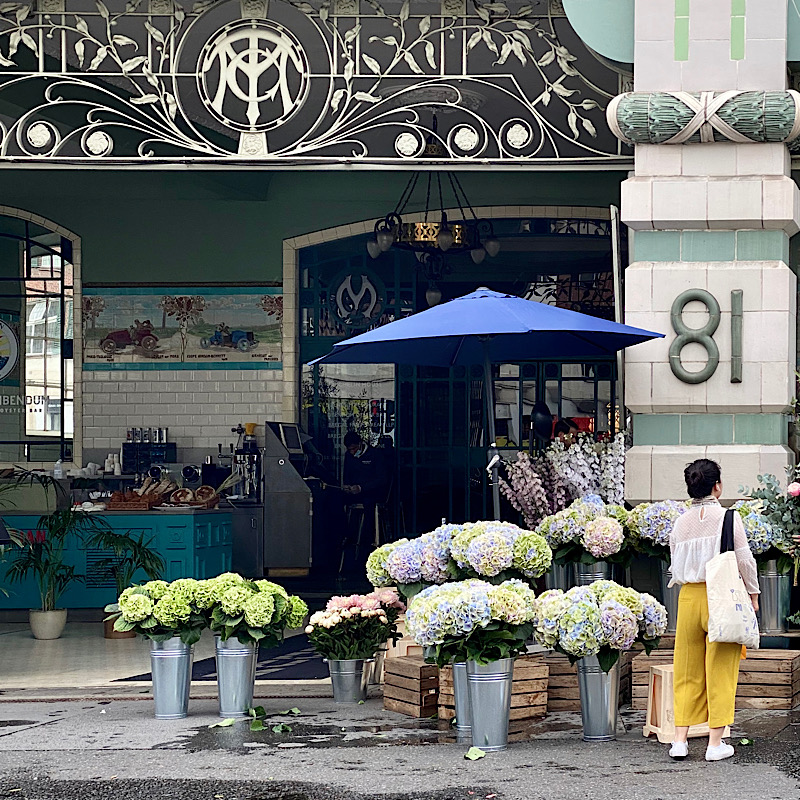 Visit London | Chelsea
Lifestyle shopping and living
Chelsea is full of really fantastic lifestyle shops; Alongside Conran, I visit Nina Campbell's gorgeous shop on Walton St. She has the best selection of table decor mixing up old and new. It is the perfect shop for gifts. I am constantly in the shop building up my coloured glass collection.. but shhh keep that a secret unless you are coming to me for supper! Andrew Martin, Jonathan Adler, Daylesford and Bamford Spa are all within a hop skip and a jump of each other for design style and inspiration.
Onto Sloane St I would always choose Anya Hindmarch. The AH bespoke shop in Pont Street is exquisite for any little gift that you want to make personal. Anya's main shop on Sloane St, is a shop where you are always made to feel so welcome. It is fun, flirty and anyone who doesn't get excited when you see one of her black and white packaging is no friend of mine!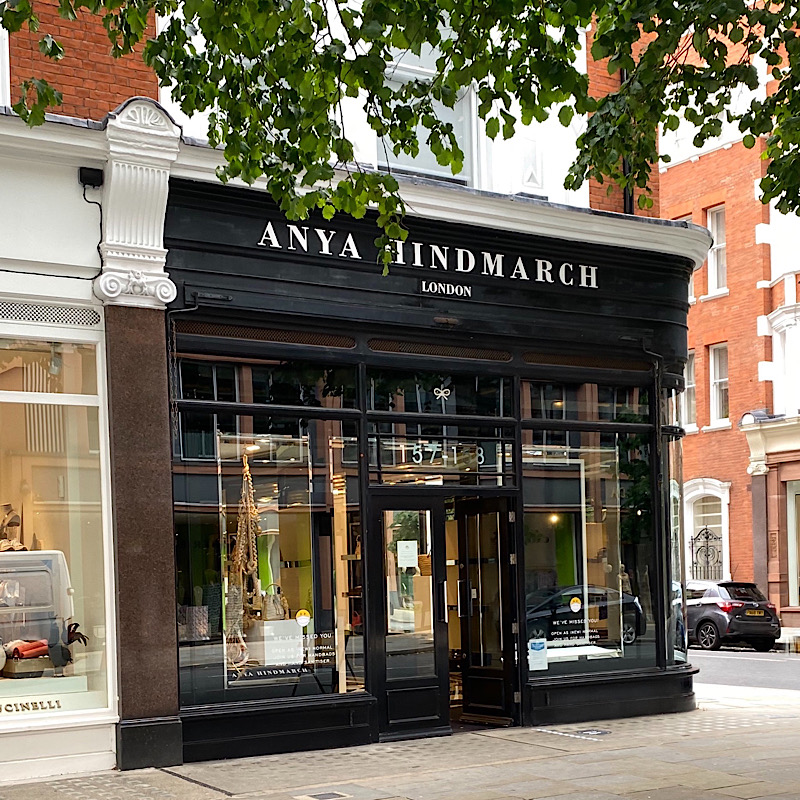 One thing I will point you towards, is the extraordinary work Anya co-ordinated during Covid-19 and the lockdown. She had two brainwaves; one was her initiative on sourcing and making reusable PPE for the Royal Marsden, which she achieved; and secondly the NHS Holdster bag made in collaboration with Professor Hugh Montgomery. If you click on the NHS link you can donate £10 and be part of the bigger drive to give all 30,000 NHS staff a holdster of their own.
Pavilion Road just off Sloane Square is charming. Whilst their beautiful bunting flutters eat ice cream at Union, buy delicious bread at Bread Ahead, or pick up some smelly cheese at the London Cheesemongers. It really is a stretch of artisan shops and little restaurants that are making this spot an absolute destination.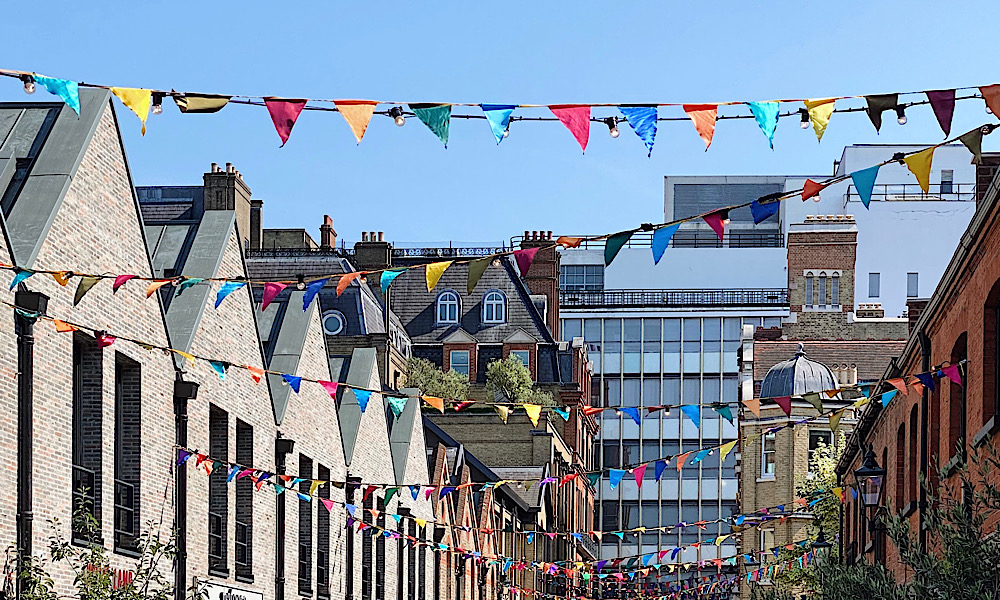 Visit London|Pimlico Road
Walking your way through to Pimlico Road from Sloane Square and you past all the beautiful antique shops. Pop into Czech and Speake for fine grooming and bathroom accessories. Pass Daylesford and on a weekend you have Pimlico Famers Market. Be warned it is busy, so if you want to socially distant, I'd give this a miss for a while.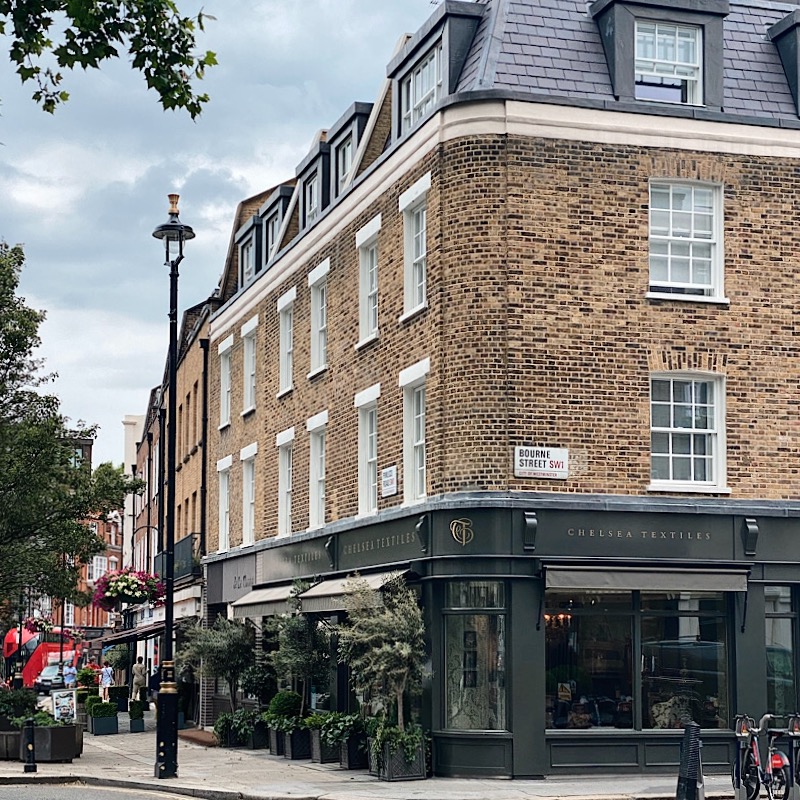 The delicious Poule au Pot is has re-opened, so a summer supper outside will be a wonderful reality. Tomasz Starzewski is selling the chicest masks next door, stop by and pick yours up whilst supporting the charity Women for Women. Along this little stretch you will also find Starbags, the most joyful children's party bag shop that has all the vintage toys you remember as well as the new.
Visit London|Elizabeth Street
Elizabeth Street in Belgraviais firmly on any visitors map for the delightful pink Peggy Porschen that sits on the corner with Ebury Street. Cakes and a pink floral facade has made this the most photographed cafe in London, and I have a few of my own favourites in this street..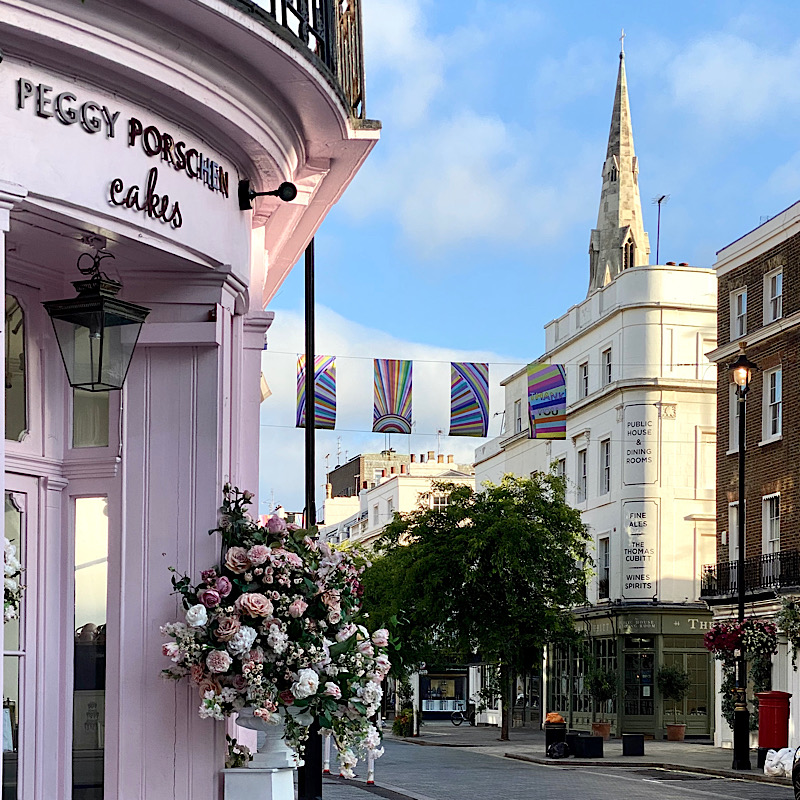 Walk your way up Elizabeth Street to be beautiful little independent shops that set it apart from anywhere else. Papouelli, a small independent British children's shoe brand that sells the most gorgeous shoes. Me & Em next door for every day staples with a flair, and Vicky Sarge opposite for glamorous unique jewellery.
Jo Loves is the wonderful brand of Jo Malone MBE herself. It is the freshest scented shop I ever walk into, and rest assured you will never leave this shop disappointed.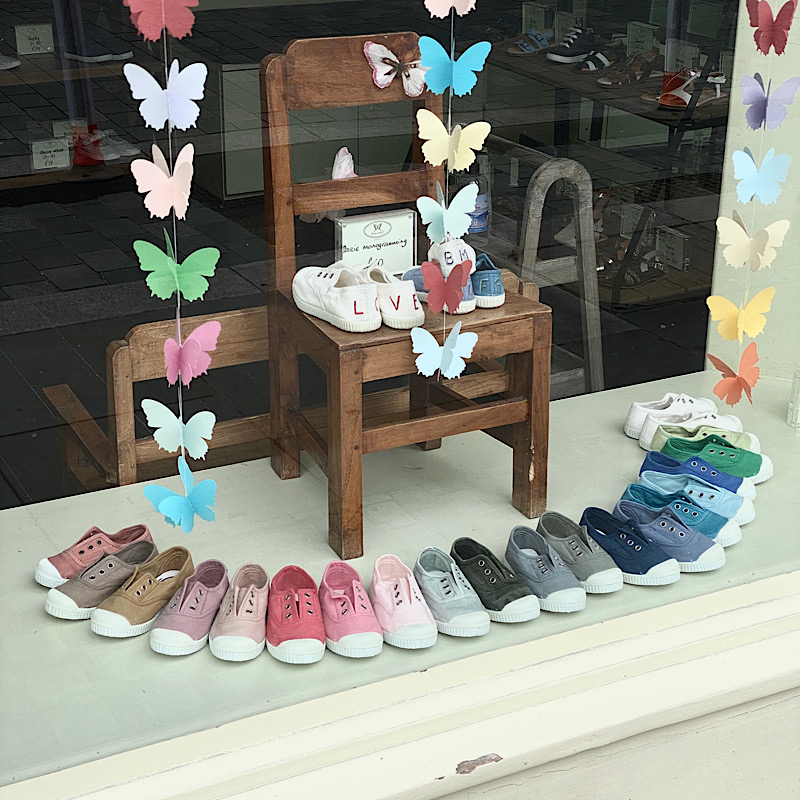 No London street is ever complete without a flower shop and Moyses Stevens always has a floral display worth a photo, and step inside for the best floral look up in London.
A few doors down you will find London's oldest perfumer. At this charming shop, Les Senteurs you can plan that Aix en Provence escape through scent. If it a table setting you are after, go along to Summerhill & Bishop. The most delightful table setting you could every hope for.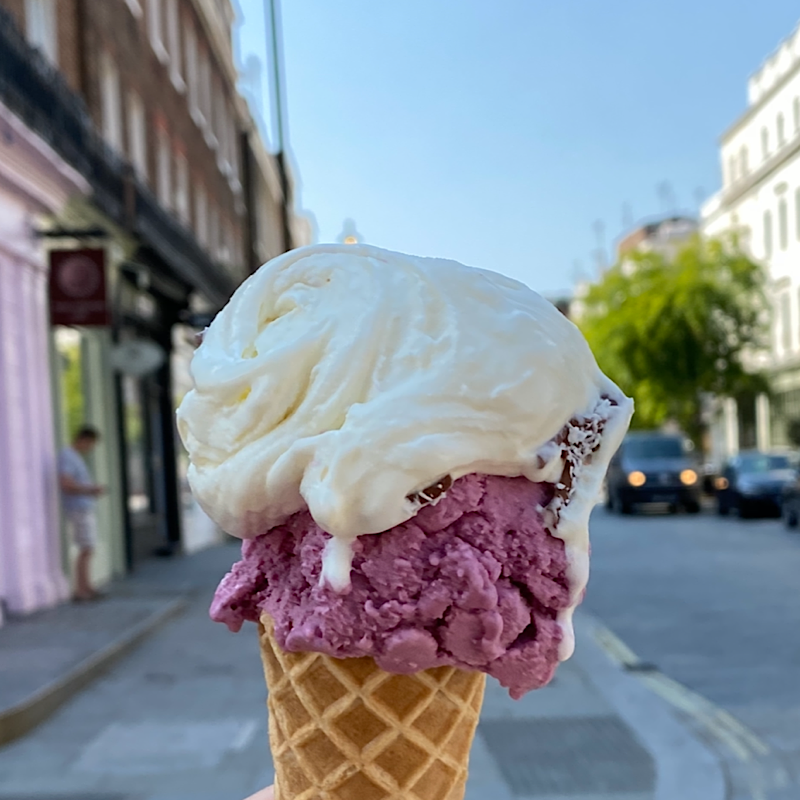 Eating and drinking in Elizabeth St, Belgravia
Jeroboams is one of the oldest wine merchants in London, their staff are always really helpful if you are looking for something special. Yet, after all this walking, I would probably end my day at The Thomas Cubitt or one of my favourite Belgravia restaurants; Olivetto's, Olivo's or even Olivo Mare. Yes Mauro, owns this selection of restaurants & the ice cream shop Olivogelo… They are all within walking distance of each other, and all offer something unique.
Either way I hope I have introduced you to some new places and shops that you may otherwise have not have known about. Happy walking.
If you want any more inspiration for Days Out in London, check out our Explore London page.
This article was created for the Visit London campaign #BecauseImALondoner